***NEWS FLASH***
It looks like our 55 passenger motor coach is full. We will now accept names for a waiting list. Please do not send in money at this time, unless we notify you of openings.***
If an opening occurs we will notify people in the order of registrations, so please read the information below and register accordingly. If you need more information, call 217-367-7777.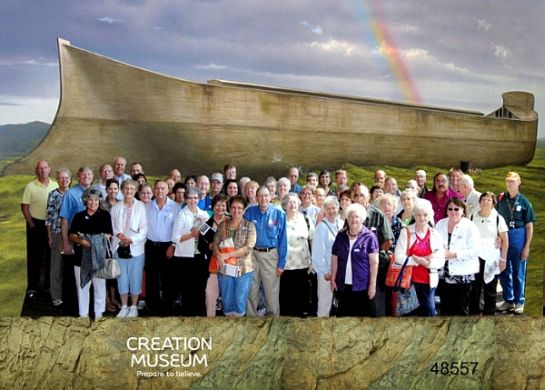 Date: Sat, Nov 12-Sun, Nov 13
Price $165, (covers deluxe motor coach, hotel accommodations, Creation Museum ticket, Planetarium ticket, Ark Experience ticket)
Overnight stay at the La Quinta Inn, Florence KY, which includes: free warm breakfast, free internet, microwave and small refrig in each room, indoor pool, nice accommodations. ***My quote is based on at least two people per room (some rooms have two queens, others only a king, these will probably go to couples). If you don't want a roommate, the cost goes up $65 to $230.
We will be boarding our motor coach at 6:15 am, from the far east lot (east of Dick's Sporting Goods) at Market Place Mall, Champaign, promptly leaving on or before 6:30 am.
There may be a pick-up in or around Danville, TBD
There may be a pick-up at the Beef House, TBD
On sat, Nov 12, we'll go directly to the Creation Museum and stay until the 6 pm closing, then head to our hotel (dinner is on your own, as there are restaurants near hotel).
Free hot breakfast at the hotel, Sunday morning.
The Ark Experience opens at noon, so we may attend a local Church or hold service at the hotel, or allow for free time, TBD . . . and your input is appreciated.
Leave the Ark around 4-5 pm, ET, arriving back home around 8-9:30 pm.
Other things you should know:
• Consider bringing along snacks, a sack lunch or other food items for the two days, if you so choose. The museums have restaurants where you may choose to eat at your own expense, and there are restaurants near the hotel.
• Bring along a Bible, notebook, pen and camera.
• Dress comfortably and casually, as it will be a long ride there and back. Maybe layer your clothing (weather dependant); you can leave things on our locked bus.
• There will be sharing and testimony time on the bus, "no pressure", but for those willing, consider sharing something that the Lord has taught you lately. 🙂
• A group photo will be taken when we arrive.
• Our planetarium viewing will be a specific scheduled time. We'll know when, once we check in. So be aware if you wander off, you may miss it.
• We will stop for dinner on our ride home. This cost will be your expense.
• Additional information about the museum can be accessed at www.creationmuseum.org
• Additional information about the Ark Experience at https://arkencounter.com
Comments Off

on Creation Museum/Ark Experience Trip
more...